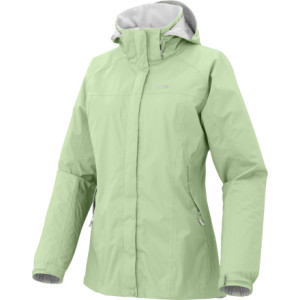 Back in late August I was on a quest to find the ultimate multipurpose waterproof/breathable shell that could be layered to use for cycling, hiking, and even just wandering around this rainy city. After much deliberating, research, and shopping, I finally settled on Marmot's Skyline Jacket in Green Tea.
Marmot's PreCip fabric promises to keep you bone dry in a total downpour, and it doesn't disappoint. I like the extra two inches of length in the torso; it provides added protection when bent forward during cycling. I also like that the hood rolls into the collar when precipitation isn't a concern, yet the thin fabric allows me to wear it pulled up underneath my helmet to keep my ears warm and head dry when it's raining. The Velcro cinches at the wrists prevent icy blasts of wind from blowing up the sleeves when cycling; no drafts here! I've worn it on many cycling excursions around the city and it's kept me dry and effectively cut the wind.
To test it out hiking, I wore it on an overnight trip to Garibaldi Lake in mid-September. It provided me with a lightweight, packable shell and kept me warm and dry. The soft DriClime® Lined Collar and Chin Guard acted as a buffer against chafing when completely zipped up. My only gripe is that it doesn't have pit zips; during strenuous exercise it's nice to have that extra ventilation. Other than that, I'm happy with my purchase. The jacket has a flattering cut and provides me with the versatility that I require. For the regular retail price of $179.99, I'd say it's slightly overpriced; I'd say wait for a sale (like I did). I'd rate it 8.5 out of 10.