Back on Sunday Nov 23rd, I made it to my first
Eastside Cultural Crawl
, which happened to be the 12th year of the event. The day dawned crisp and sunny and I set out with two friends to enjoy perusing as many of the 300 artists as we could in a single day. It proved challenging, and we certainly missed many, but we still saw an impressive number of studios despite our limited time.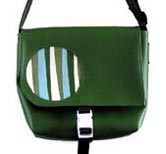 We started on Railway St. and viewed many of the live/work spaces where many local artists reside. We also paid a visit to 339 Railway where I met Janna Hurtzig, visionary and founder of
Astrosatchel
handbags; I own two of her creations which I've loved and abused for several years now. I was also struck by
Nadine Stefan
's paintings and her innovative use branches, which she strategically placed behind the canvass, pressing it forward and adding dimension. In the Razstone Studio I met
Kevin Ross
, who makes stunningly beautiful and impressively tall--up to 12 feet--pots by using a combined technique of hand coiling and wheel throwing. Having experimented with pottery in the past, I listened in awe as he explained how he makes his pots how he even makes his own clay from scratch!
From there we meandered south, viewing wonders like the organic yet modern infused furniture design of
Peter Pierobon
at 716 East Hastings. At the Parker Building I found myself overwhelmed by four floors bursting with creativity. I found
Elizabeth Barne's
abstract paintings intriguing and inspirational. I also fell in love with the vibrant yet bohemian pottery of
Silvia Dotto
. I lo
ved them so much I made arrangements with her the week after to purchase some of her lovely pots at her studio. It's too bad she's decided to discontinue her line of serving bowls with their dark hematite exterior contrasting against the vividly coloured interior, but I understand an artist's need to grow and expand. My imagination and creativity was stimulated by the innovation and creativity I saw in a single day. I'm already looking forward to next year!