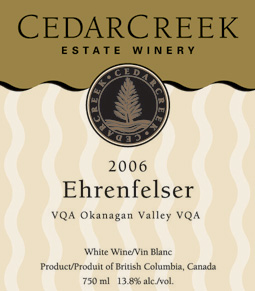 Last August I spent a weekend with my girl posse in the Okanagan valley visiting some of the wineries and developing an appreciation for what some of BC's vineyards have to offer. On the tour we took with
Okanagan Wine Tours
, we stopped at
St. Hubertus
,
Cedar Creek
and
Summerhill
vineyards to sample a selection of their wines. I was always a red wine girl but after this excursion I finally tasted what I'd missed out on. In the Cedar Creek winery shop, our wine guide raved about their Ehrenfelser describing its flavour as complex and multifaceted and said it has a cult following in the Okanagan valley, regularly selling out. Although we hadn't sampled it in the tasting I took his advice and bought two bottles.
That evening we opened a few different wines to try over dinner and were instantly convinced that the 2007 Ehrenfesler was the best white we'd tried all day. The intense fruit flavours changed like a citrus kaleidoscope on the palate--from lime to grapefruit; a refreshing reprieve from the B.C. interior's summer heat. I've become a fan of this white since taking the first taste back in August. It's difficult to find but I've discovered that you can get it at
Okanagan Estate Wine Cellar
at 3669 West 4th (right near Alma & 4th). It retails for $18.10 a bottle, which is worth every penny. Cheers!